New!!! Please book online!!!
Camping in Silverton
Thank you for visiting the Village of Silverton Campground page!
We are now closed for the 2021 season. Thank you to everyone for making our 2021 season a great success! We love seeing you all here enjoying our beautiful campground and Village!
AND we hope to see you in 2022! Starting in January 2022 we will be taking bookings for our 2022 campground season. Please check our booking website for availability by clicking on the "blue tent" button "Book Now" on the left. Have a great winter and see you in 2022!
Campground renovations are in progress.
Please bear with us as we do our best to make it your favorite place to stay!
Silverton has one campground separated into three different locations, Lakefront, Lakeside and Creekside. All are within easy walking distance of Village parks and amenities.
Lakefront and Lakeside campground are situated at the foot of Leadville Street turn South/left for access for ALL SITES. There are 6 sites directly on the lake and 14 sites adjacent. A great feature are the washrooms and shower facilities.
All locations are capable of accommodating both larger units and tents. Please go to the calendar section when booking online and put in your specifications (for example RV size, tent) Situated along Silverton Creek, the Creekside has an additional 20 sites and is an ideal setting for large groups and people with pets. Ball diamond, children's play ground, tennis courts and bocce pits are located nearby.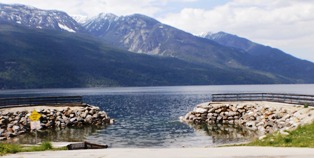 A boat launch is located at the foot of Leadville street and parking is available for boat trailers and vehicles.
Walk across the foot bridge, enjoy the Day Park, or simply go fishing at the mouth of Silverton Creek. Gerard rainbow as large as 10Kg have been caught from the shore.
Our campground has a new online reservation system to make it easy to book your sites. Just click on the tent icon located at the top left-hand side of the page and add your dates and vehicle info to view available sites.
Rates are $25.00 per night for the sites at Creekside, $30.00 per night for the Lakeside sites and $50.00 for the Lakefront sites that sit directly on the lake.
For more information Email: CampgroundReservations@silverton.ca or call 250-358-2472